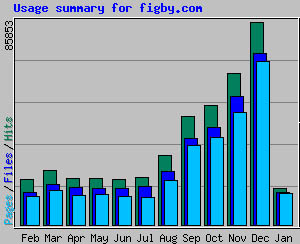 As you can see from the graph, this site has grown quite a bit in traffic over the last year. I'm seeing over 1000 unique visitors most weekdays now, which isn't amazing, but it's nice to know somebody's reading this stuff.
The first real jump in traffic seems to have been in August, roughly coinciding with my switch to WordPress. Maybe some of the sheer charisma of WordPress has rubbed off on this site, or maybe it's just the fact that I've been posting longer and better posts since switching to a platform that made it easier to post. Or maybe I had more time to post because I spent less time coaxing homebrew software into working.
Thanks to everyone who has read or linked to this site over the past year!
3 responses to "Figby.com's growth in 2004"