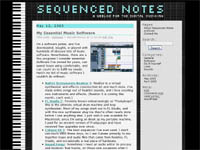 When I'm not working on websites, one of my favorite hobbies is making electronic music with computers and synthesizers. I've been thinking for a while that I'd like to write about making music, but this isn't the place for it—first of all, I like to keep this weblog somewhat focused on web development and computers, and second, music can be an obsession at times, and it would take over this site for months at a time if I allowed it.
Besides, another of my obsessions is starting new websites.
Sequenced Notes is my new electronic music weblog, where I'll be writing regularly about synthesizers, sequencers, and other aspects of digital music production. I think it will be fun to write about something a bit more "right brain" than anything else I do, and I'm hoping it will convince me to spend more time actually working on music. It will also be an outlet for another of my hobbies—building my own synthesizers.
I had a bit of fun with this site's design, which is inspired by the "piano roll" editor used in sequencers. It uses a CSS layout loosely based on the one I did for Starling Fitness. It's a bold, kind of intentionally geeky look—believe it or not, I toned it down a bit before finalizing the design. I'm particularly happy with the way the top graphic merges seamlessly with the background grid.
The logo font is Jason Kottke's Silkscreen. I used this font directly for the tagline, and built the logo text in the sequencer grid one giant pixel at a time based on the letters in the font. I'll probably use Silkscreen column headers in the sidebar too, but I haven't done that yet.
This site is my first experience using WordPress 1.5, and the source of my earlier post about WP 1.5. I'll be upgrading my other sites soon.
Let me know what you think, and I hope I have a few readers who are musicians and will find it worth a read. Stay tuned for next week, when I further expand my portfolio of multiple personalities weblogs with an additional unrelated site.
[The name of the site is a pun: "sequenced notes" could describe a weblog, as well as the primary component of electronic music. Get it? No? Congratulations, you're not as much of a nerd as I am.]
2 responses to "New weblog: Sequenced Notes"