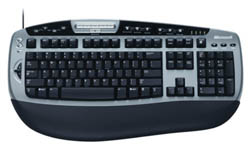 I've used an HP multimedia keyboard for the past year or so. It had two critical problems that recently convinced me to switch: first, after spending way too many hours fiddling with things, I could never get the multimedia buttons to work reliably with WinAmp. Second, I spilled a drink on it.
Microsoft's Digital Media Pro Keyboard is the cheapest of their new line of keyboards. The more expensive ones are wireless, and while I'm sure there's a huge group of people I haven't met who want to use their keyboard wirelessly from 10 feet away, I just want mine to sit on my desk and never require batteries.
The keyboard has a great feel. Apparently the "natural keyboard" fad is over—most of the new models have the old-fashioned layout, and I have to admit I've had no increase in wrist strain or sore fingers since abandoning natural keyboards a few years ago. I'm sure they work fine for some people, but I'll stick to the standard layout for now.
Along with the usual buttons in all of the right places, it has a "zoom slider" on the left, which I'm sure will disappear from the next batch of keyboard models. More buttons include volume, mute, play/pause, stop, previous/next track, five programmable "Favorites" buttons, shortcut buttons for things like My Documents and Mail, a dedicated Calculator button next to the numeric pad (one of my favorites).
It also makes a gesture toward making the almost-worthless function keys useful again—they default to things like Undo, Open, Close, Save, and so on (and seem to work in just about every program.) You can lock them to act like traditional function keys too.
Since this is a Microsoft keyboard, I expected some trouble customizing all of the buttons. Surprisingly, this hasn't been an issue—the control panel lets you reassign just about everything. Even more impressive, the media buttons worked in WinAmp with no configuration, and the "Web" button pops up Firefox by default since it's my default browser. The zoom slider controls the font size in Firefox. The control panel lets you disable the Windows and Application keys, and assign the functions or programs of your choice to the "Enhanced F-Keys". Kudos to Microsoft for not trying to lock me into their applications with this keyboard.
The Digital Media Pro Keyboard supports USB or PS2 connectors, and includes software for Windows and MacOS. I haven't found a problem with it yet. Highly recommended.